1. My favorite Christmas song is Feliz Navidad by Jose Feliciano. Click here to listen
2. My favorie Christmas cookie is the Peppermint choclate cookie that crumbl has. I love Crumbl cookies!
3. My favorite Christmas Movie is Elf. My favorite quote from Elf is "Bye Buddy, Hope Yu Find Your Dad!" by Mr. Narwal. Click here to watch it 
4. My favorie Christmas/Holiday activity is skiing. Me and my friends and cousins go up a lot in the winter an the snow is usely the best around Christmas time.
5. I really want some more clothes and I'm pretty sure I'll get them, I really want to get some sweats for Christmas. I also really want some shoes. Click here to see the shoes
6. My favorite service project to do for people is probably shoveling driveways. My dad and I shovel our neighbors riveways everytime it snows. It is actually pretty fun because we usely get some thing to eat afterwards.
7. This is my favorite Christmas meme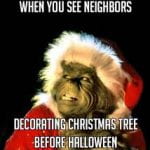 8. hOnestly the best holiday gift to give is gift cards to like Swig or Scheels.
9. An interesting fact about Chrismas is that Egyptians and Romans were the first to use Christmas trees.
10. My favorite holiday memory was when we all went tubing at gorgoza and we had so much fun! All of my cousins and extended family went and we had a blast!